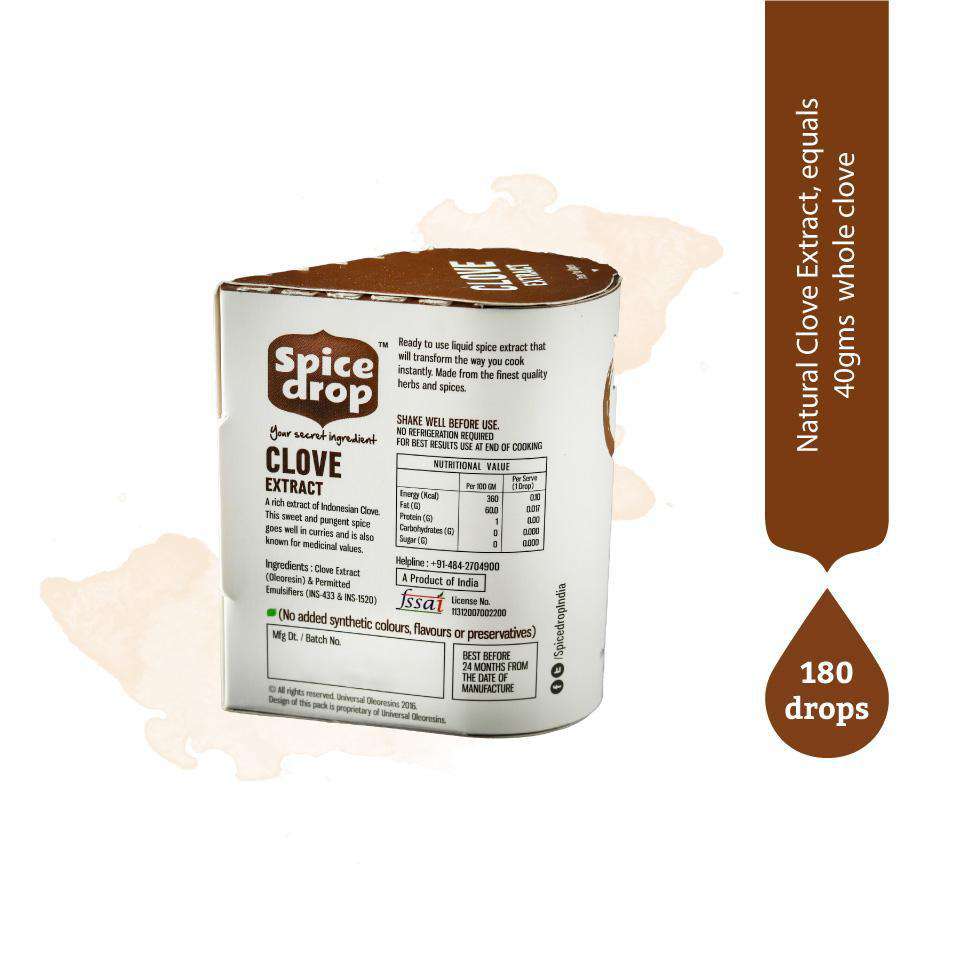 Clove
In stock | kg
The Spice Drop Clove extract is an incredible product with naturally warm, sweet and powerful notes that helps you blend in the aromatic flavour of clove without the hassle of storing the raw spice or grinding it. 
Say goodbye to that dilemma of adding the right amount of cloves to your dishes with the help of Spice Drop Clove extract, you can easily add exactly the right amount of flavour to your meals.
Just use the dropper that comes with the package and mix in a few drops of the extract to the prepared dish, depending on your taste, and use a ladle to combine.
Best used at the end of cooking or at your table!
Expiry: 2 years from date of manufacture.
CAN BE USED IN:
#indiancooking #tea #biryani 
---
---
Recipe
Ingredients
Directions
Saffron Phirni
Milk - 1 litre
Soaked rice -1 cup (Soak in water for 4 hrs)
Sugar - 1 cup (or as per taste)
Cardamom Spice Drop
™ - 4 to 5 drops
Saffron Spice Drop
™ - 3ml (Measure spoon provided)
Pistachios chopped - 8-10
Almonds chopped - 8-10

Bring the milk to a boil in a deep pan. Lower the heat and let it simmer till it reduces in volume to 3/4th.Grind the soaked rice to a coarse paste. Add a little milk to it and mix to make it a little thinner.Add the Sugar, Kesar Spice Drop™ and Cardamom Spice Drop™ to the milk and mix well till combined.Mix the rice paste and cook well till the mixture thickens. Pour into nice bowls and let it cool.Garnish with chopped nuts serve chilled.

---